"NEW KIDS ON THE BLOCK" im Neu West Berlin, Chausseestr. 36,
Frisch aus der Kunstschulküche: Malerei, Drucke und Installationen.
__________
Man nehme
eine abgeranzte Werkhalle kurz vorm Abbruch,
ganz doll sehnsüchtige Künstler bzw. "Künstler",
das olle Konzept 'ner mächtig tollen Clubgalerie,
ein unheimlich kreatives cross art branding
für die Referenzensammler-Antigammler
und bereitwillig gelangweiltes Publikum –
fertig ist die Kunstlaube.
Im verwestlichten Osten nichts Neues also. Schade, könnte man meinen. Nun denn: Schade. Ob wohl die Verantwortliche dieses bezeichnenden Artefakts davon ahnte?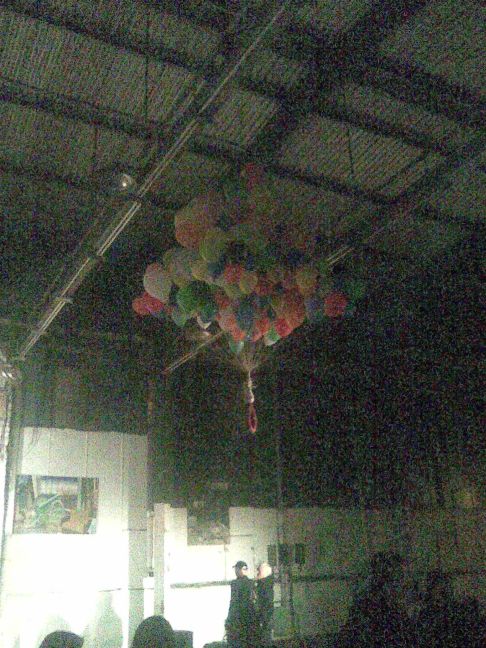 Man weiß es nicht.
__________
NEW KIDS ON THE BLOCK: Angel, Ali Altin, Emmanuelle Castellan, Malte Fröhlich, Wanda Growe, Hodori, Bernhard Holaschke, Malte Kebbel, Johannes Kithil, Christian Korda, Jan Pleitner, Kanta Kimura, Markus Liehr, Sebastian Lis, Susi Mehl, Mij. K. Do, Giuletta Ockenfuss, Johannes Orthmayr, Aldo Pantaloni, Sunny Pudert, Josefine Reisch, Marcus Scheunemann, Janes Schmallenberg, Max Siebenhaar, Beau Stanton, Genaro Strobel, Maximilian Thiel, Stefanie Walk, Jakob Wakner, Wide Scope Experimental.